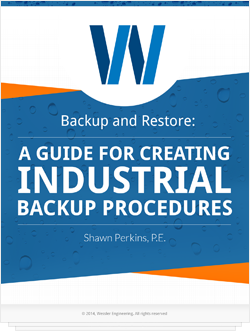 It's 10p.m. and you just got a call from the plant that a critical PLC has failed and can't be revived.
A replacement PLC is on hand so all the technician needs now is the backup file to get everything back up and running. You know where that is, right? It's up to date and has all the latest set point values included, doesn't it? There aren't any supporting files that you need and don't have, are there?
Knowing where the backup files are located is just half the battle. Ideally you should have a comprehensive Backup and Restore Procedure available to guide you, or any other qualified personnel, through the steps needed to recover from this type of situation in a timely fashion.
This Guide walks through the who, what, when, where and how questions that must be addressed in industrial Backup and Restore Procedures.
Complete the form to have the guide sent to your inbox. If you do not receive your guide within a few minutes, be sure to check your junk folder.