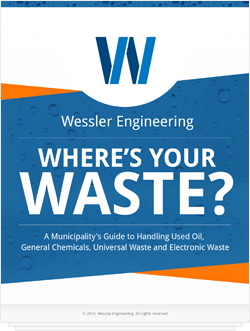 A Municipality's Guide to Handling Used Oil, General Chemicals, Universal Waste and Electronic Waste
Download this free guide to learn more about:
Identification of used oil

Container storage practices

Container labeling

Spill prevention practices

Documentation

Municipal transportation of used oil

Used oil burners

Chemical storage and handling practices

Collecting and recycling universal waste including bulbs, batteries, mercury-devices and waste pesticides.

Collection and recycling electronic devices including computers, phones and fax machines.

Chemical and waste labeling
Complete the form to receive a free copy of this ebook in your inbox. If you do not receive your guide within a few minutes, be sure to check your junk folder.